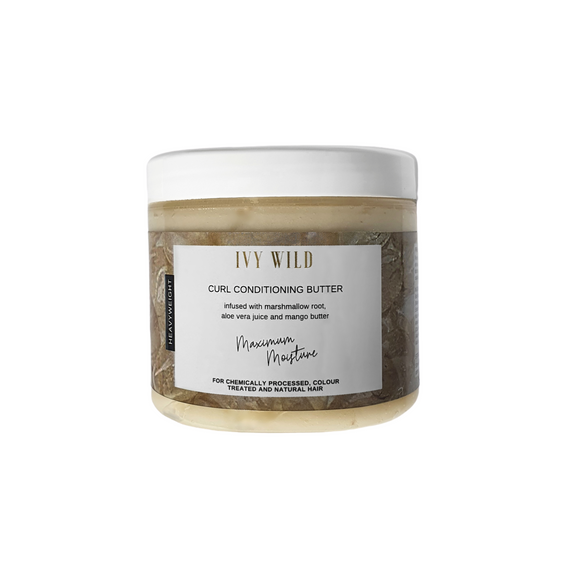 CURL CONDITIONING BUTTER
£15.95 GBP
Pay over 3 easy installments with
___________________________________________________________________
In Stock - Usually dispatched in 24 hours
Ready to seal in moisture and define your curls?
Specially formulated for extremely dry and damaged hair strands, blended with Mango Butter, Aloe Vera Juice and Marshmallow Root Extract. Deeply nourishes strands for soft, manageable, flake-free defined curl pattern. Perfect for braids, cornrows and twists.
___________________________________________________________________
Product details:
A whipped, highly moisturising hair butter which contains Flaxseed extract and Sweet Almond Oil
100% VEGAN
Free from mineral oil
Free from parabens
Free from sulfates
Free from gluten
Whipped butter
100g
Ingredients: 
Key Ingredients:
Flaxseed Extract Defines curls, a rich source of Omega-3 fatty acids
Raw Shea Butter Seals in moisture with Vitamins A and E
Grapeseed Oil Tames frizz and reduces scalp inflammation
Sweet Almond Oil Helps to prevent breakage, split ends and itchy scalp
How To Use:
After washing your hair with the DRENCH SET Shampoo + Conditioner evenly distribute throughout your hair strands paying close attention to the ends. Alternatively, shingle or coil through your hair using your fingers.
Delivery & Shipping:
UK DELIVERY OPTIONS
spend £25 - £3.99 delivery
USA DELIVERY OPTIONS
International Tracked (5-7working days) - from £24 delivery
Economy (up to 6 weeks) - from £12.99
EU DELIVERY OPTIONS
France/Germany - from £9.00
Belgium/Netherlands - from £9.00
Italy - from £15.35
CARIBBEAN DELIVERY OPTIONS
Barbados - from £26.00
Jamaica - from £26.00
Montserrat - from £26.00
AFRICA DELIVERY OPTIONS
Ghana - from £13.50
Nigeria - from £19.00