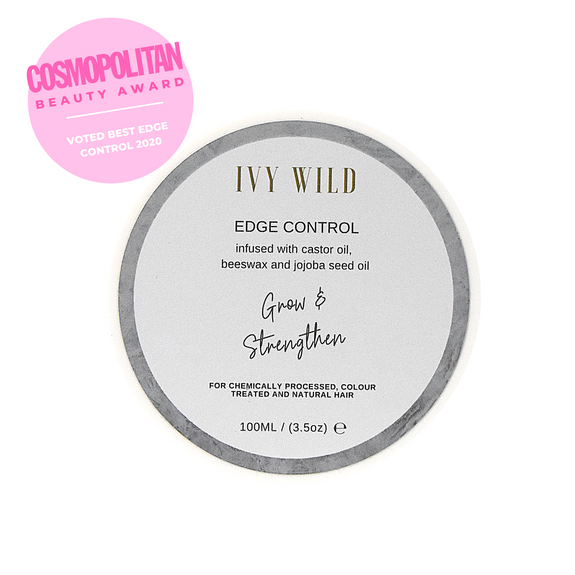 EDGE CONTROL
£8.10 GBP
Pay over 3 easy instalments with
___________________________________________________________________
In Stock - Usually dispatched in 24 hours
Tired of white marks, oily edges and your hair reverting back to untamed?
Treat your hair to an Edge Control that contains an anti-frizz formula, ideal for blocking humidity and replenishing moisture. Castor Oil is an additional ingredient added to help promote and encourage hair growth. Leaving your hair oil-free, this product is famous for controlling reversion on naturally coarse hair types
___________________________________________________________________
Product details:
A stronghold, high shine water-based pomade which contains Castor Oil and Beeswax
Free from mineral oil
Free from parabens
Free from sulfates
Free from gluten
Transparent
100ml
Ingredients: 
Key Ingredients:
Purified Water This product contains 70% of purified water 
Hydrogenated Castor Oil Replenishes hair growth around edges
PEG-7 Glyceryl Cocoate Conditions hair made from Glycerin and Coconut oil
Beeswax Seals, conditions, adds a stronghold and moisture balance

How To Use:
Straight & Wavy Hair Types: Apply to wet or dry hair that has been washed with DRENCH SET Shampoo + Conditioner. Apply a finger-tip scoop amount of product into the palm of hands, gently rub together and style from root to tip.
Curly & Kinky Hair Types: Apply a small amount of product to the perimeter of hairline using fingertips, comb or brush.
Delivery & Shipping:
UK DELIVERY OPTIONS
spend £25 - £3.99 delivery
USA DELIVERY OPTIONS
International Tracked (5-7working days) - from £24 delivery
Economy (up to 6 weeks) - from £12.99
EU DELIVERY OPTIONS
France/Germany - from £9.00
Belgium/Netherlands - from £9.00
Italy - from £15.35
CARIBBEAN DELIVERY OPTIONS
Barbados - from £26.00
Jamaica - from £26.00
Montserrat - from £26.00
AFRICA DELIVERY OPTIONS
Ghana - from £13.50
Nigeria - from £19.00