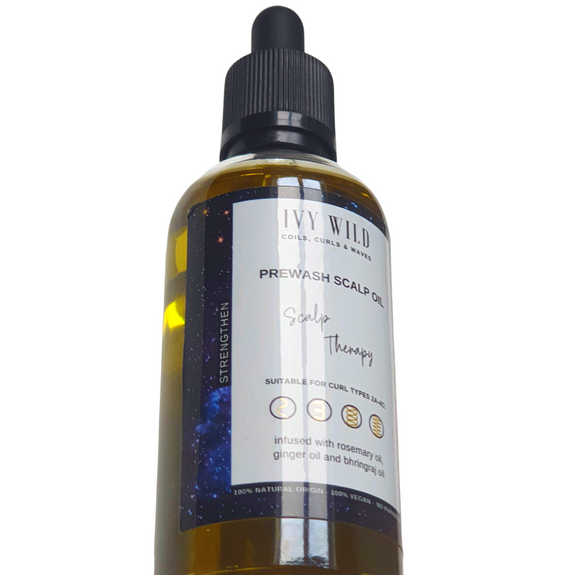 PREWASH SCALP OIL
£14.95 GBP
Pay over 3 easy installments with
___________________________________________________________________
In Stock - Usually dispatched in 24 hours
Looking for the perfect blend of 11 super nourishing oils to promote growth?
A natural blend of ingredients formulated to help strengthen and grow your hair with a powerful blend of potent plant-based nutrients. Crafted to be part of your weekly routine, this oil is ideal as a natural choice to soothe flaky scalp conditions such as dandruff, psoriasis, and contact dermatitis. This oil protects your irritable scalp with a gentle blend while deeply conditioning your strands. To be used at the very beginning of your wash day, before you Shampoo your scalp.
 ___________________________________________________________________
Product details:
A natural scalp soothing oil which contains a blend of eleven super seed oils
100% Recyclable
100% Natural ingredients
Ayurvedic Bhringraj oil
Contains Rosemary oil
Pre-diluted
Free of silicones
Free of parabens
Free of preservatives
Free of gluten
Animal-cruelty free
100ml
Ingredients:
Rosemary Oil, Bhringraj Oil, Coffee Oil, Golden Jojoba Oil, Teatree Oil, Sweet Almond Oil + more 
How To Use:
For best results, apply drops of this oil to your scalp and gently massage in using your fingers. Leave on for 15mins and then follow with the IVY WILD Hydrating Shampoo and Moisturising Conditioner.
Delivery & Shipping:
UK DELIVERY OPTIONS
spend £25 - £2.99 delivery
USA DELIVERY OPTIONS
International Tracked (5-7working days) - from £24 delivery
Economy (up to 6 weeks) - from £12.99
EU DELIVERY OPTIONS
France/Germany - from £9.00
Belgium/Netherlands - from £9.00
Italy - from £15.35
CARIBBEAN DELIVERY OPTIONS
Barbados - from £26.00
Jamaica - from £26.00
Montserrat - from £26.00
AFRICA DELIVERY OPTIONS
Ghana - from £13.50
Nigeria - from £19.00