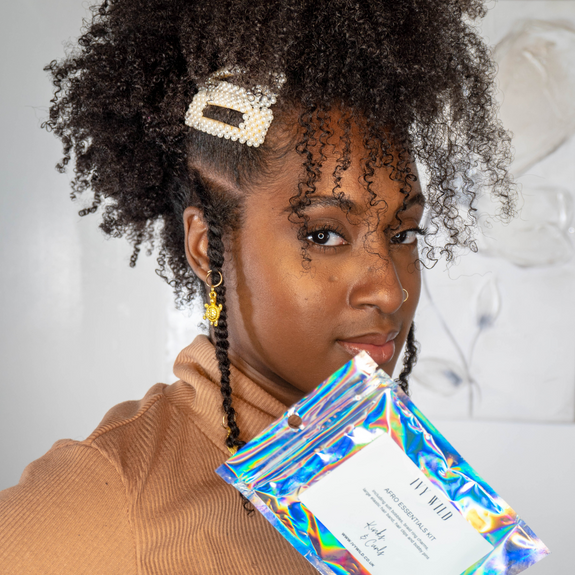 AFRO ESSENTIALS KIT
£9.99 GBP
Pay over 3 easy installments with
___________________________________________________________________
In Stock - Usually dispatched in 24 hours
Already got a gift but want to add something a little extra special?
Whether it's a treat for yourself or a loved one, this Afro Essentials Kit is the must-have collection of cute Afro girl styling accessories.
The best way to retain length and avoid breakage is by using accessories that are gentle on your tresses.
Product details: 
1 reusable reseal bag
2 soft snag-free bobbles
2 large stretchy snag-free elastic headbands
5 braid ring hoop charms 
4 bobby pins
2 hair clips 
This is a fantastic 'add-on' gift with our Hydrating Shampoo and Moisturising Conditioner combo!
Hair clips and braid ring hoop charms are assorted. 
Delivery & Shipping:
UK DELIVERY OPTIONS
spend £25 - £3.99 delivery
USA DELIVERY OPTIONS
International Tracked (5-7working days) - from £24 delivery
Economy (up to 6 weeks) - from £12.99
EU DELIVERY OPTIONS
France/Germany - from £9.00
Belgium/Netherlands - from £9.00
Italy - from £15.35
CARIBBEAN DELIVERY OPTIONS
Barbados - from £26.00
Jamaica - from £26.00
Montserrat - from £26.00
AFRICA DELIVERY OPTIONS
Ghana - from £13.50
Nigeria - from £19.00