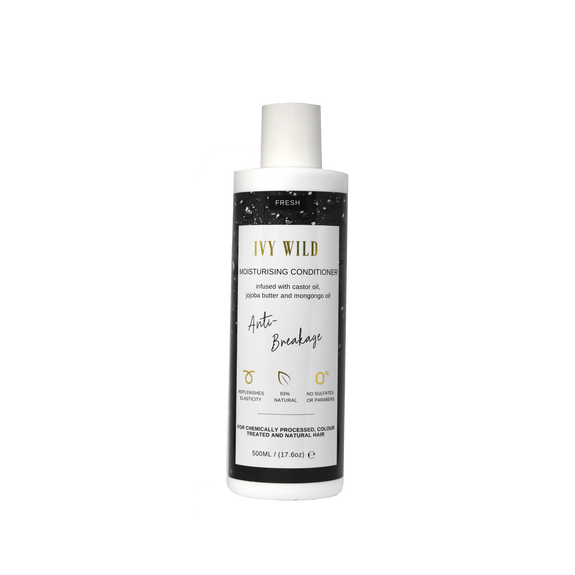 MOISTURISING CONDITIONER
£13.95 GBP
In Stock - Usually dispatched in 24 hours
Ready to experience moisturised kinks and curls?
This Moisturising Conditioner is a luxurious conditioner which contains a unique blended formula created to transform weak and lifeless hair. Infused with Argan Oil, Keratin and Vitamin E to promote strength and hair growth. Add a silky finish to your hair or use this conditioner as a Co-wash in place of a Shampoo for dry and damaged hair.
___________________________________________________________________
Product details:
A moisturising and repairing conditioner which contains Moroccan Argan Oil.
Free of parabens
Free of sulfates
Free of gluten
Creamy in texture
500ml
Ingredients:
Key Ingredients:
Purified Water This product contains 75% of purified water 
Castor Oil Made from natural castor oil beans
Glycerin Natural ingredient that adds slip 
Jojoba Butter An emollient that moisturises hair  
Mongongo Oil Double the strength of Coconut oil, made from the Manketti tree
Hair Type:
Suitable for Straight, Wavy, Curly and Kinky hair types
How To Use:
Always start with IVY WILD Hydrating Shampoo. Shake well before use. Squeeze out excess water from hair. Massage into hair, leave for 3 minutes and rinse off thoroughly. Recommended to be used 1-2 times per week depending on hair type.
Delivery & Shipping:
UK DELIVERY OPTIONS
spend £25 - £2.99 delivery
USA DELIVERY OPTIONS
International Tracked (5-7working days) - from £24 delivery
Economy (up to 6 weeks) - from £12.99
EU DELIVERY OPTIONS
France/Germany - from £9.00
Belgium/Netherlands - from £9.00
Italy - from £15.35
CARIBBEAN DELIVERY OPTIONS
Barbados - from £26.00
Jamaica - from £26.00
Montserrat - from £26.00
AFRICA DELIVERY OPTIONS
Ghana - from £13.50
Nigeria - from £19.00