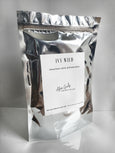 2 LUXURY SATIN PILLOWCASES - PINK
£19.97 GBP
Pay over 3 easy installments with
___________________________________________________________________
In Stock - Usually dispatched in 24 hours
Guilty of not wrapping your hair at night? Ready to feel like royalty and retain moisture?
Cotton pillowcases are every natural girls' worst nightmare. It is time to wake up with soft skin and hair. Reduce hair breakage by up to 45% by simply changing your pillowcase. This means that you can finally begin to retain moisture and hair length.
Product details:
Curly and Kinky Friendly:
Contains two pink colour pillowcases
45% less friction on your hair to aid in retaining length 
No need for your head wrap, these pillowcases will keep that moisture locked in
Why your hair will love it:
Perfect for ALL hair types
The smooth satin fabric reduces dryness and frizz
This set really is lingerie for your hair
Why not try our Afro Essentials Kit?
Delivery & Shipping:
UK DELIVERY OPTIONS
spend £25 - £3.99 delivery
USA DELIVERY OPTIONS
International Tracked (5-7working days) - from £24 delivery
Economy (up to 6 weeks) - from £12.99
EU DELIVERY OPTIONS
France/Germany - from £9.00
Belgium/Netherlands - from £9.00
Italy - from £15.35
CARIBBEAN DELIVERY OPTIONS
Barbados - from £26.00
Jamaica - from £26.00
Montserrat - from £26.00
AFRICA DELIVERY OPTIONS
Ghana - from £13.50
Nigeria - from £19.00
Customer Reviews
Xmas was saved
Great customer service